Anticipation
"Baby Shark," my latest library story, a book debut, and some ghostly good links
I had "Take Me Out to the Ballgame" stuck in my head this morning as I biked to the coffee shop. I should have been humming "Baby Shark," the Nationals' unofficial fight song this season (Do-do-do-do-do-do!). The Washington Post has a great video explainer up on YouTube that explains how this cartoon-TV earworm hooked the team and its fans. If you'll be handing out candy in the DMV this Halloween, expect to see a lot of Baby Shark costumes.
As you have probably heard, it's Game 3 of the Fall Classic tonight, the Nats are back in town to take on the Astros, and everybody's breaking out the curly-W gear to root root root for the home team. DC baseball fans have waited a looooong time to have a baseball team in the World Series again. Photographic evidence:
Another thing to cheer about, no matter where you live in the United States: public libraries. Here's an excerpt from the feature story I did for the fall NEH Humanities magazine on how libraries' public-service role has become ever more complicated—not to mention essential—as the public sphere shrinks:
"One place, though, remains open to everybody. The public library requires nothing of its visitors: no purchases, no membership fees, no dress code. You can stay all day, and you don't have to buy anything. You don't need money or a library card to access a multitude of on-site resources that includes books, e-books and magazines, job-hunting assistance, computer stations, free Wi-Fi, and much more. And the library will never share or sell your personal data. In a country riven by racial, ethnic, political, and socioeconomic divides, libraries still welcome everyone."
You can find the whole story online.
Another thing I'm looking forward to: the publication next week of David M. Rubenstein's The American Story: Conversations with Master Historians, out Oct. 29 from Simon & Schuster. The book's official launch will be at stalwart DC indie bookstore Politics & Prose on Tuesday.
I was lucky enough to spend the last year helping the author prepare the book for publication. I've spend most of my life/work around books; this was the first time I got to see all the steps a book project moves through, from early drafts through edits and copyediting to finished product you can hold in your hands. (This should come in handy as I move my own book closer to done.)
The American Story features conversations with marquee-name historians and historically minded journalists, plus a foreword by Dr. Carla Hayden, the Librarian of Congress—not to mention some awesome illustrations from the Library's manuscript and photo collections. Rubenstein based the book on a nonpartisan series of interviews, the Congressional Dialogues, which he holds at the Library for members of Congress.
As he explains in the introduction, he created the series with the idea that policymakers, of all people, would benefit from hearing more about the complicated history of the country and the debates and crises that have shaped it. Given the current state of political discourse, it's a good time to be reminded of how much we have weathered in the last 243 years.
As Nats fans like to say these days, #stayinthefight.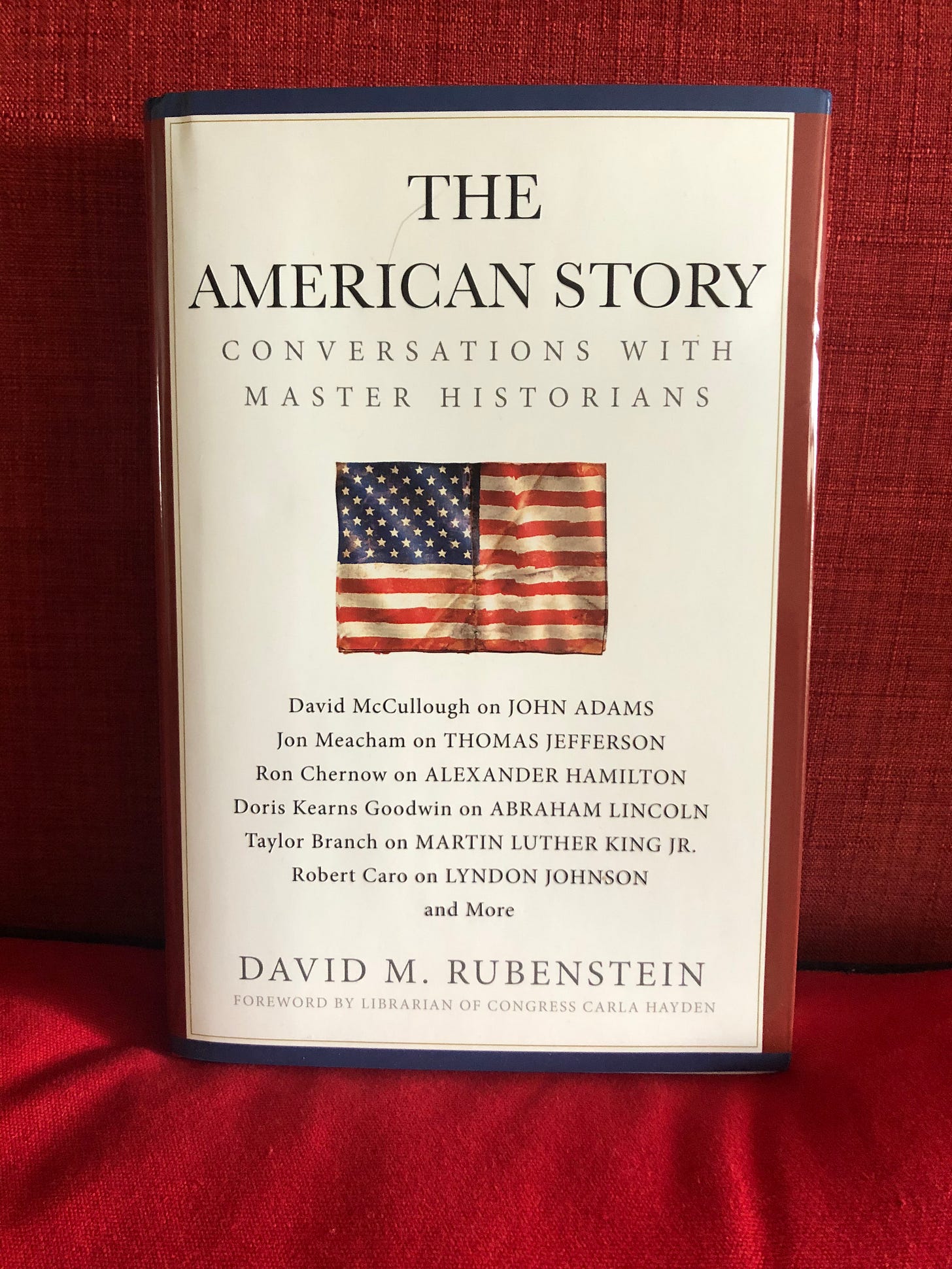 Halloween, my favorite holiday, is less than a week away. Some ghostly-good links worth your time this week:
1) "Terrified of ghosts as a child, alone at night in his bedroom he would become convinced ghosts were reaching out for him in the dark": Read the excellent Colin Dickey on Lafcadio Hearn's retellings of Japanese ghost stories.
2) Speaking of Japan, Shirley "Haunting of Hill House" Jackson is big there, reports Jackson biographer and literary critic Ruth Franklin in her newsletter, Ghost Stories. This observation of Franklin's will stay with me: "Every biography is a kind of ghost story, told by a person who strives for communion with an inaccessible other."
3) An urban ghost story of sorts, about the vanished community of business owners DC ousted to make room for the Nationals' new stadium in 2005.
4) The mating scream of the white bellbird will make your blood run cold.
5) Capitol Hill-based portrait photographer Elizabeth Dranitzke of Photopia shares tips on how not to be afraid of a headshot if you're a woman who's hit the mid-century mark.
Thanks for reading!
Cheers,
Jen