In Like a Lamb
Book revisions, weather, and MYBAS
Happy early March, friends. Here in DC the daffodils are busting out, along with redbuds and plums and the other lovely trees of springtime. I've seen honeybees, likely from the hives down the street at Congressional Cemetery, at work on the dandelions and flowering weeds that have claimed my front yard. (The struggle for an eco-friendly lawn alternative continues.) It's all lovely, and too early. What happened to "In like a lion, out like a lamb," March?
Regardless, I've opened the windows to enjoy the spring air. Tomorrow I'll worry about the climate crisis, the coronavirus crisis, the political crisis, and any other crises that present themselves. These last few months (years) have been a hard slog for many people. Set down the burden when you can, even if it's just for an hour or two on an unseasonably mild day.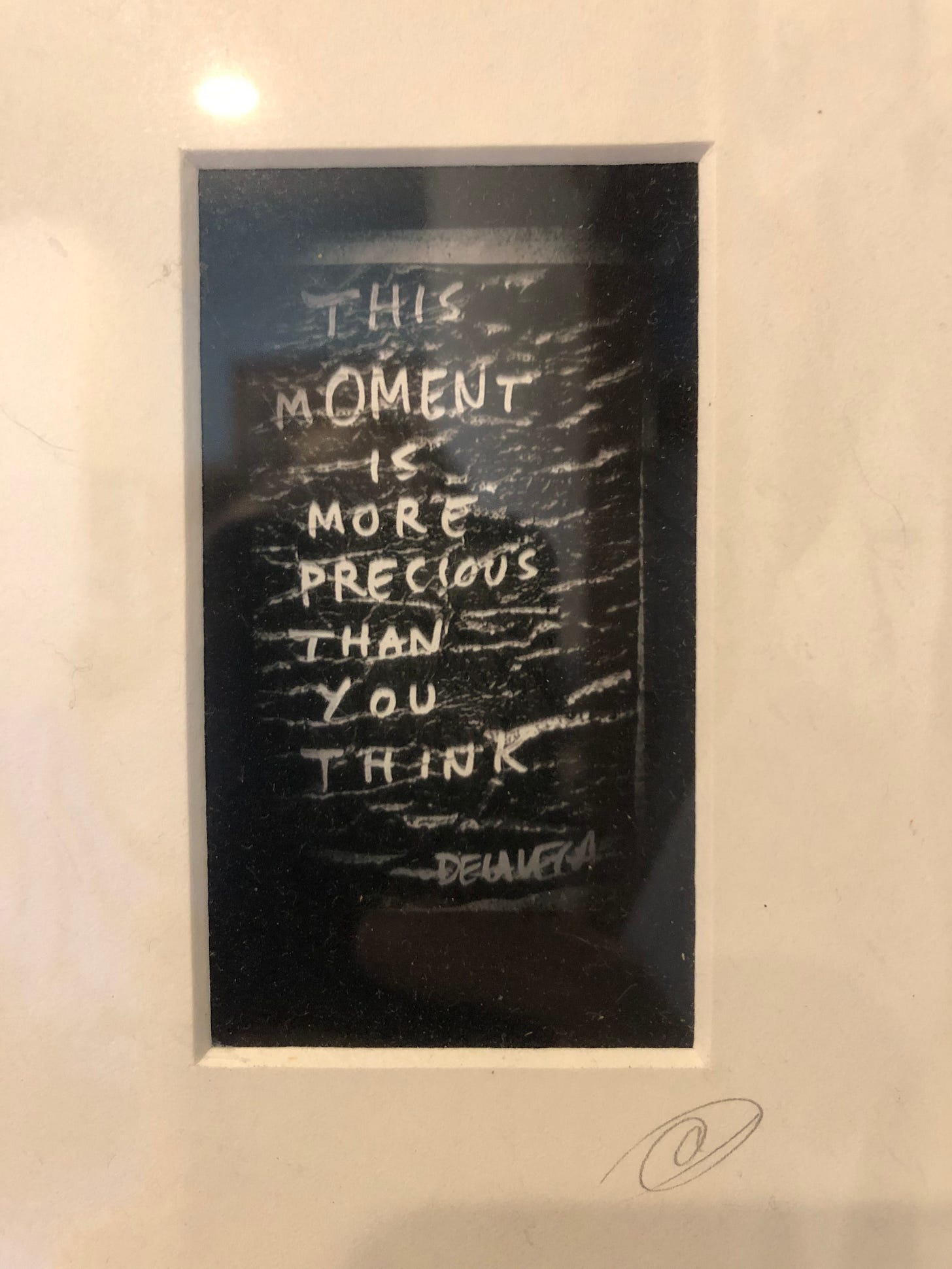 I bought this print from a vendor on the High Line in NYC a few years ago. (I don't have the artist's name or I'd credit them here.) It hangs in my kitchen now, a gentle reminder not to get sidetracked by regret or anxious anticipation.
Since my last newsletter, I did keep up with current events (so many reasons to be anxious, plus the heartbreak for all of us on #TeamWarren), but I had even more pressing things to keep me occupied: book revisions. Nothing focuses the mind away from the news like having to turn around a rewrite of your manuscript in less than a month.
Luckily, I have a super-smart editor (hi, Dan!) who sent me an edit letter in early February. Author friends had whispered to me about edit letters, in which editors lay out what works in a manuscript, gently (or not-so-gently) point out what doesn't click, and sketch out some ideas about how to make the book in question better, stronger, faster. (We're also debating a more market-friendly subtitle tweak: How does "Clutter: A Tidy Little History" sound? Tantalizing or twee? I'd love some opinions.)
Dan's letter did all those things, in the nicest and most encouraging possible way. You know you have lucked into a good editorial relationship when your editor wants MORE of your thoughts—more analysis, more conviction—not less. Dan encouraged me to embrace the chance to go beyond reportage and share what I actually think about the roots and consequences of this contemporary culture of consumption of which clutter is one symptom.
Here's the thing: As a female writer, nothing feels more liberating than being told, "I want to hear more about what you think." We don't hear that a lot.
So I dove back into the manuscript. Was it easy? Hell no! Turns out that revising is just as hard as drafting! Luckily I was able to capture some of the process on tape:
After I dislodged some boulders and busted through some walls, I ran out of steam and sent the thing back to Dan. Now I can distract myself with the news again while I wait to hear what he thinks of the revamped manusript, assuming I haven't massively fucked the whole thing up in my quest to make it better.
Time's moving along. Seven months til pub date!
If you want to pre-order Clutter now, my publisher and I would be eternally grateful.
---
Meanwhile, some non-panicky links worth your time:
1) Happy-making public-domain news from the Smithsonian:
For the first time in its 174-year history, the Smithsonian has released 2.8 million high-resolution two- and three-dimensional images from across its collections onto an open access online platform for patrons to peruse and download free of charge. Featuring data and material from all 19 Smithsonian museums, nine research centers, libraries, archives and the National Zoo, the new digital depot encourages the public to not just view its contents, but use, reuse and transform them into just about anything they choose—be it a postcard, a beer koozie or a pair of bootie shorts.
2) Today is International Women's Day, which is as good a day as any to celebrate the inspiring work of women everywhere. As this year's IWD theme puts it, "An equal world is an enabled world."
3) This quote from Valerie Jarrett gives me hope that I'll live to see a woman in the White House, in spite of Elizabeth Warren's withdrawal from the presidential race and that godforsaken question of gender and electability:
"Women will not be perceived by some as electable until we're elected," saidValerie Jarrett, a top adviser to former president Barack Obama and a friend of Warren's. "I often say progress always seems impossible until it's inevitable. There was certainly a time when our country might have thought that an African American man was not electable. And what happened? We just kept trying."
4) I looked at my bedside stack of books and realized that most of the books I've been reading lately are by women, from French writer/laywer Hannelore Cayre's prize-winning crime novel, The Godmother (recommended!), to Lydia Davis's Essays One, which I'm slowly savoring, to a couple of historical romances I picked up at one of my neighborhood Little Free Libraries. (I have thoughts on those I'll save for another time. For now suffice it to say that I am not one of those people who gets snobby about genre.)
5) My next reads are also by women: Mr. Churchill's Secretary, the first book in the Maggie Hope WWII-London mystery series by Susan Elia MacNeal, which I borrowed from the DC Public Library as an audiobook, and Jenny Offill's new novel, Weather.
I happened to wander into DC indie stalwart Politics & Prose when Offill was doing an event there recently. She's oh-so-mordantly delightful and witty (this profile of her gives you a sense of that), and I am looking forward to the book, although I expect it won't make me feel better about the state of the world.
MYBAS, it turns out, is a prepper joke: "May You Be Among the Survivors."
MYBAS, friends. Be well, wash your hands, and enjoy a little spring, even if it's early. Thanks for reading.
Cheers,
Jen