Two Readings and a Funeral
Secondhand stories, Dorothy L. Sayers, and foremothers
One of the biggest questions that lurks behind my clutter investigations:
Where does it all go?
I've been happy to find some well-reported answers in the work of Adam Minter, a journalist and columnist for Bloomberg Opinion. I went to hear Adam talk this week about his new book, Secondhand: Travels in the New Global Garage Sale, at the Politics & Prose outpost at The Wharf.
Minter knows his stuff. He comes from a Minneapolis junkyard/scrapping family, and he's been reporting in depth for a long time on the global recycling and e-waste trade (the subject of his first book, Junkyard Planet: Travels in the Billion-Dollar Trash Trade).
I'm in the middle of Secondhand now. It's helping me better understand the shifting interplay of market pressures, demographic changes, cultural habits, and emotional reckonings that make this such a rich time to be writing about clutter. Thanks to Adam for his work and for signing his book for me.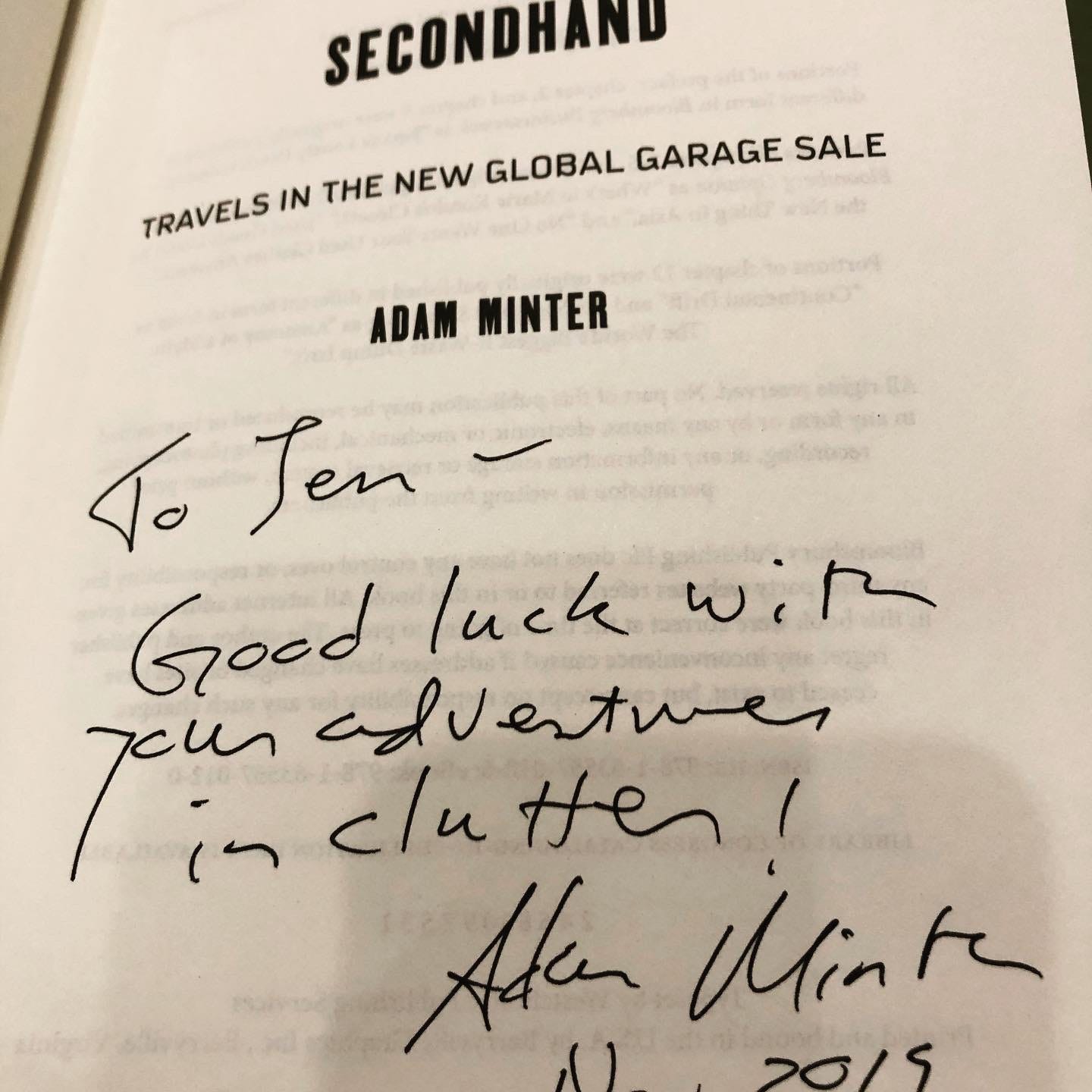 ---
One bookstore reading this week I wanted to get to and couldn't make featured Mo Moulton and The Mutual Admiration Society: How Dorothy L. Sayers and Her Oxford Circle Remade the World for Women. Moulton's new book provoked the New Yorker essay I linked to last week about Sayers and her "overlooked" (heh) novel Gaudy Night.
I picked up Gaudy Night in a used bookstore a while back and read it for the first time. Published in 1935, it doesn't obey the rules (or deliver the pleasures) of a classic detective story. But it fascinates me as a study of smart women—chief among them Harriet Vane, more than a match for Lord Peter Wimsey, not to mention a stand-in for the author—in the throes of figuring out how to put their smarts to work in a world opening up but not yet fully open to them. They could vote at last and attend university. What happened next was harder to figure out.
Gaudy Night raises some questions that must have been very much on the minds of Sayers' contemporaries: Is the life of the mind the wrong choice or the only choice? Does romantic partnership help or hinder women as they make something of themselves?
I'd have liked to hear Moulton dig into all that. I will have to content myself with reading the book instead. BTW, she did a nice thing afterward: She put together a Twitter thread to thank all the indie bookstores that hosted her on tour.
---
Sayers and Gaudy Night were on my mind as I drove down to Richmond, Va., yesterday, for the re-interment of my grandmother Marie. Born the year before Sayers, Marie died in 1934, the year before Gaudy Night appeared.
My dad was 18 months old when she passed; he doesn't remember her. The story was she'd suffered a burst appendix; we later learned she probably died of an ectopic pregnancy, a condition she might well have survived today.
She was buried in her hometown in Pennsylvania; my father had long wanted to bring her back to Richmond and reunite her with my grandfather and uncle in the family plot. It was moving to see that happen yesterday. I think and hope she would be happy to be with her family again, though I expect that such physical arrangements matter most to the living.
I was born decades too late to meet Marie, but I wouldn't be here without her. I learned yesterday that she was a graduate of Smith College. What did she major in? What did she pursue in college? I want to know more about the lost intellectual life of this woman who lives in family lore as the gone-too-soon wife and mother.
What could she have done if she'd lived longer? Did she ever exercise her right to vote? I hope so.
My stories of her will always be secondhand; I'll never get to have my picture taken with her. In her honor, here's a photo taken last night at a party to celebrate the National Endowment for the Humanities. Thank you, Alice Paul and Anna Julia Cooper and all the foremothers who opened the doors for us.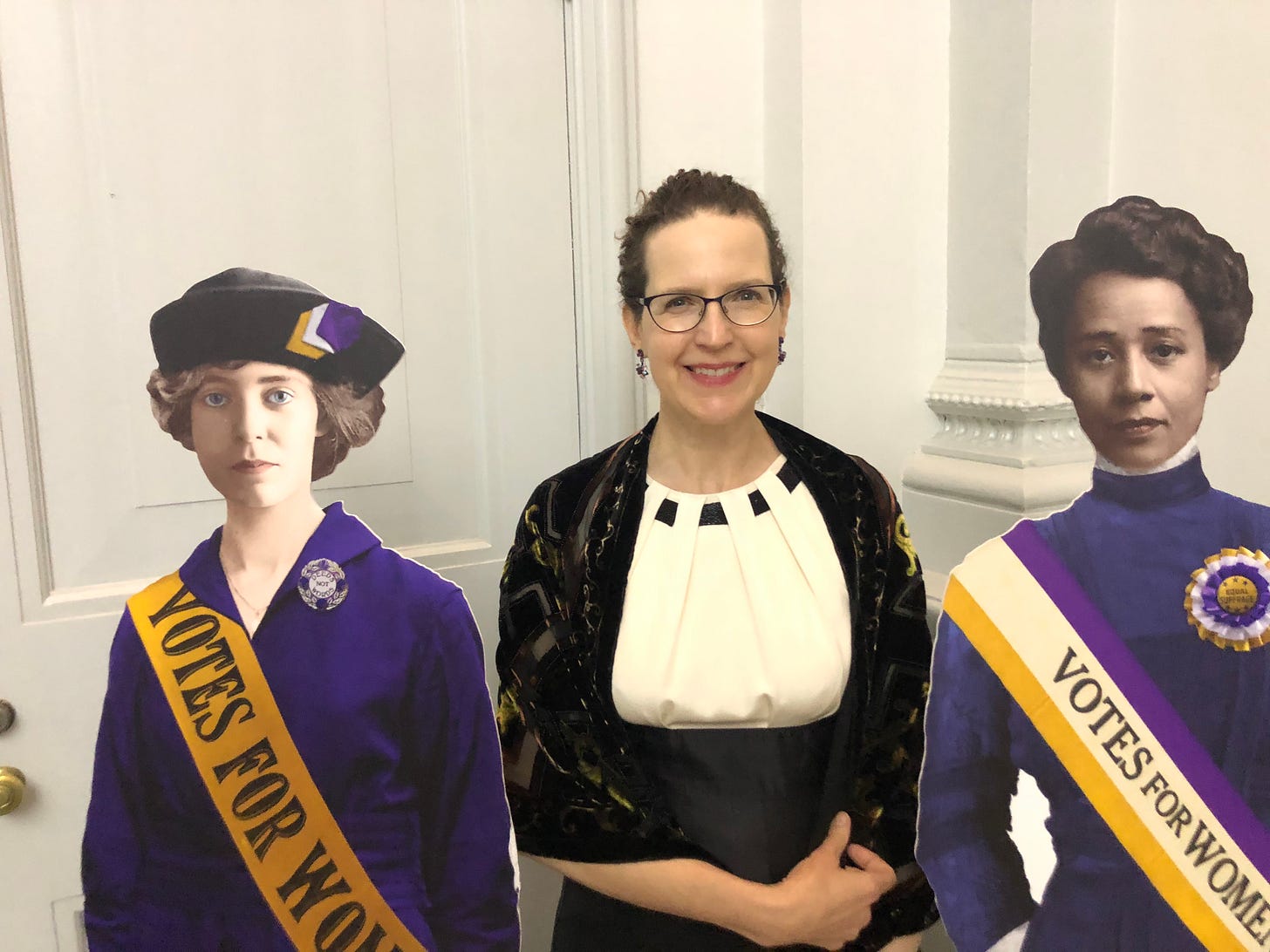 Some links worth your time this week:
1) Marie Kondo launched an online store, prompting raised-eyebrow comments from people who like to conflate decluttering and minimalism. (They are not the same thing, in case you're wondering.)
2) Other commenters observed, not for the first time, that some Kondo backlash has a racist/sexist tinge to it.
3) Pro tip for library designers: Remember to make the books accessible to all patrons. Oh, and don't create a design that enables upskirting.
4) When Lydia Davis offers advice on good writing habits, I pay attention.
5) How do you compile a book of daily Sherlock Holmes quotes? With the help of a co-editor who has an almost Holmesian devotion to "making lists of lists."
6) Which reminds me that these darkening days (oh, the fading of the light!) are my favorite time of year to reread some Sherlock Holmes stories. The game's afoot!
If you're enjoying this newsletter, please share it with a friend.
Thanks for reading!
Cheers,
Jen